December 10, 2020
Posted by:

admin

Category:

News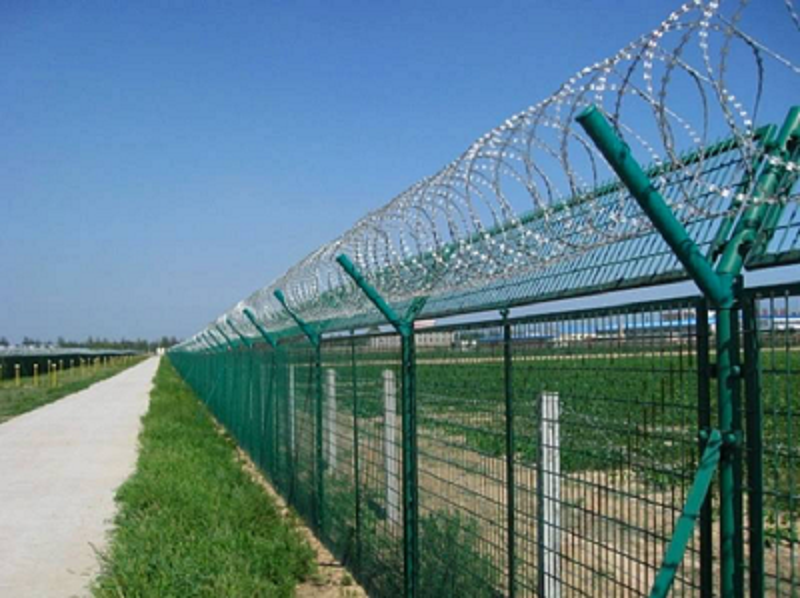 Durable and aesthetically pleasing, a system designed with strength and appearance in mind, offering an alternative approach to conventional medium security applications. With a vertical pattern of alternating wires and pressed beams for superior strength its the unique choice for government, schools, utilities and commercial facilities.
Redleaf Mesh Panels
Fabricated from high tensile steel with a weld
strength of 60% and a tensile strength of 500N/
sq mm.
• Vertical wires have a diameter of 4mm and
horizontal wires have a diameter of 3,15mm
with a tolerance of +/- 0.07mm.
• Apertures shall be 75mm W and 12.5mm H c/c
of wires.
• Standard panels length 3Mtrs.
• Standard panel height 2.4Mtrs
• Panels are laterally strengthened by the
incorporation 4 x 43mm deep V- profiled (90
degree) horizontal stiffener bends.
• Panel finish tolerances: width +/- 2.0mm and
height +/- 6mm. Fixings
• To Posts: Pre galvanized side clamp fixed with
M8 tek screws in to pre drilled 7mm holes.
• Clamps are then powder coated black, or
green.
Redleaf Stanchion Posts
• 80mm square posts (2mm thick) hot dipped
galvanized and powder coated with 7mm
dia. precut holes for fixings for mesh heights
up to 2.4Mtrs
• Posts shall be 500mm longer than the
required height Of the fence.
• 2 x 10mm dia. mild steel rods will be supplied
to be fixed to the precut holes at the base of
the support pole. These are to be inserted
prior to setting the poles in concrete.
• PVC top caps will be supplied with all posts
(Not required if additional security measures
being fitted to top of fence).